Le U
«Le U» is a further developed TA6V titanium implant from the ARCA-MEDICA Company for semi-rigid re-stabilization in the area of the lumbar spine.
«Le U» is simple to insert and leads to minor distraction with: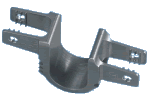 relief of the small vertebral joints
enlargement of the foramina
limitation of the mobility especially in extension, but also in rotation
shock absorbing function by taking over a part of the load
Indication
Minor instability following:
decompression of spinal canal stenosis,
disc hernia dissection, especially recurring,
resection of the flavum ligament joint cysts,
protection of a neighboring segment following rigid spondylodesis,
retrolisthesis,
Baastrup's disease, soft stenosis through ligamentum flavum.
This post is also available in Deutsch.